Back to Blog
InterContinental Hotel Group - Efficiency Case Study
:
June 29 2021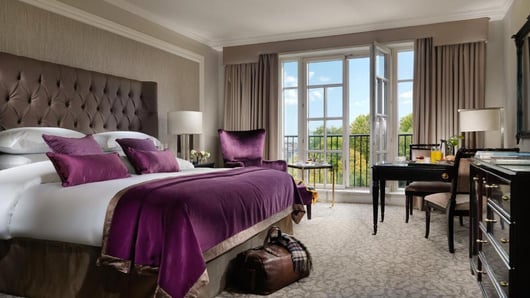 The InterContinental Dublin is a 5 star resort located in the leafy suburb of Ballsbridge, south Dublin. They needed a hotel facilities management solution which would allow them to better manage their maintenance and housekeeping tasks and cleaning tracking. Since using Snapfix and the Snapboard, the hotel has seen an improvement in health & safety standards, reduced waste, and more effective communication between staff.
‍
The InterContinental hotel sits on 2 acres of gardens in the southside of Dublin city. It boasts 208 guest rooms, the Seasons Restaurant, as well as a spa and wellness center with pool and gym facilities.
It is part of IHG, the world's largest hotel group with over 3,600 hotels and 537,500 guest rooms in nearly 100 countries and territories around the world.
‍
Nicky Logue is the current General Manager. Initially, Nicky was looking for a hotel maintenance platform which would help him manage reactive and planned maintenance tasks which occurred across all areas of the hotel. Like many other hotels, he was relying on pen and paper, emails and spreadsheets to keep track of requests and communicate across departments. This led to communication mix ups and lack of accountability.
‍
When Nicky heard about Snapfix and how his team could easily report and resolve issues using the universal language of photos, messages and traffic lights, simply by using their mobile phone, he jumped on the opportunity to work with us.
‍
Once the InterContinental became a client, Nicky and his team faced another dilemma. Following the hotel reopening after the initial Covid-19 lockdown, Nicky needed a way to reassure guests, visitors and staff that the hotel was adhering to IHG's strict international hygiene protocols. Nicky discussed this challenge with us to see if we could help.
‍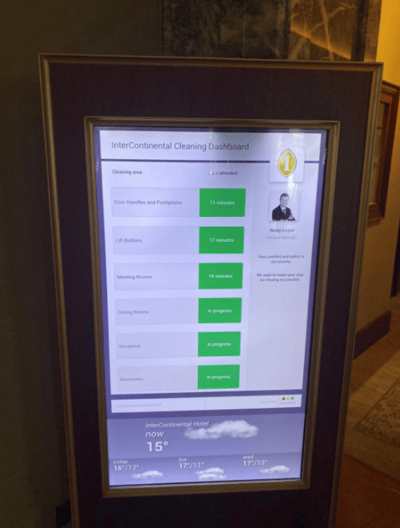 Our team developed a simple, innovative and highly customizable dashboard referred to as a 'Snapboard' for use in public areas or in management offices. The Snapboard was simple for the hotel's audio-visual technician to display within minutes on the existing hotel TV monitor. Now everyone in the hotel could see at a glance how many minutes it was since the door handles, lift buttons or the restrooms (for example) were deep cleaned with hygiene disinfectants. The hotel chooses what to display on the IHG-branded Snapboard and it's all controlled by the Snapfix app which the multi-lingual cleaning staff use on their phones. There's no need for paperwork, post-it notes, phone calls, voicemails or messaging. It's all managed and controlled using photos on Snapfix. And training is minimal.
‍
With Snapfix, communication amongst staff has greatly improved. The platform's automation means that now all maintenance and housekeeping tasks are completely accounted for and issues never go amiss.
‍
With the Snapboard, the hotel has seen an improvement on health & safety standards. Hotel guests, visitors and staff now have complete peace of mind due to the constantly updated Snapboard. It provides a visual reassurance that staff are completely Covid-aware and are doing continuous non-stop deep cleaning in high traffic public areas.
‍
"Snapfix is great for our hotel's maintenance and cleaning tasks. Using photos for team communication is so easy and efficient for our team. And the 'Snapboard' is displayed in our lobby, giving our guests, visitors and staff the confidence that our IHG hygiene program is well managed by an automated system. I recommend both Snapfix and the Snapboard feature very highly for any hotelier" Nicky Logue, General Manager, InterContinental Hotel (Dublin)
‍
If you manage a hotel or facilities, Snapfix is the ideal solution for your business. Get in touch with us today to get things done.
‍
Leave a comment